Service dogs are regularly trained to help disabled veterans. But what about PTSD therapy?
IOWA Veterans and First Responders benefit from Service Dogs in this major big veteran news story
Upon seeing the dog sitting beside his chair, Steve Vincent of Iowa exhales. "Go grab it." Vincent's missing chains were promptly discovered by Doc, a two-year-old yellow lab. "Appreciate it very much." Vincent from Maquoketa, Iowa, shared his thoughts.
Buke Garland Shirley sat softly beside him, petting Sumiti. According to Veteran News, IOWA gives free mobility and emotional support dogs to first responders and veterans. Among the first troops to train their canines were Vincent and Shirley.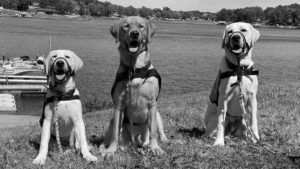 Vincent served in the United States armed services for over 30 years, during which time he was sent twice to Iraq between 2005 and 2010. As a result of the blast, he was not identified during the first deployment. In 2012, Vincent was medically disfellowshipped for the second time. He, on the other hand, battled to live a normal life.
Despite his neurological injury, he has remained tense since being diagnosed with Post-traumatic stress disorder (PTSD) Vincent came to life when he began working with Dee in 2013. She gave him a talker and comforted him at tough times.
Dee will be able to retire after seven years. After applying for a new service dog via IOWA Service Dogs with the assistance of Julie, Vincent and his family welcomed Doc to their home.
It was in 2007 that Shirley accidentally ingested ice water and suffered severe lung damage. As a result of an accident in 2007, he was forced to give up therapeutic interventions and undergo a double lung transplant in 2017. Shirley, a former first responder, is now the Chief Softball Coach at Clark University. That is until last fall's medication adjustment induced chronic lung rejection. 
The idea came from Angie McGuire, Shirley's girlfriend. Detect Shirley's shortness of breath and ask for assistance or oxygen cylinders. According to Vincent's wife Julie, Doc does another crucial task for Vincent.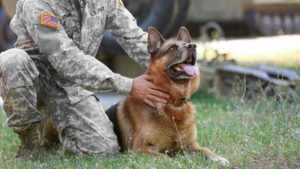 Shirley and Vincent were chosen as support animals after years of training and several calls for support dogs from the Iowa Department of Veterans Affairs. They studied service dog guidelines and dog behavior. Basic dogs are sourced from well-chosen breeders and undergo extensive health and fitness testing. Each dog's lifetime care, nutrition, training, and consumables costs over $20,000 each.
Shirley and Vincent joined Doc and Smitty for the remaining six months of the session. IOWA Service Dog Supervisor sees the boys regularly to ensure that their canines are properly trained.
Training and conditioning for dogs are essential if they are to be of service to their owners consistently. They say Doc and Smitty are not emotional support animals since they have been extensively trained. From puppyhood to retirement, Vincent stated.